OHA's Wahiawā Lands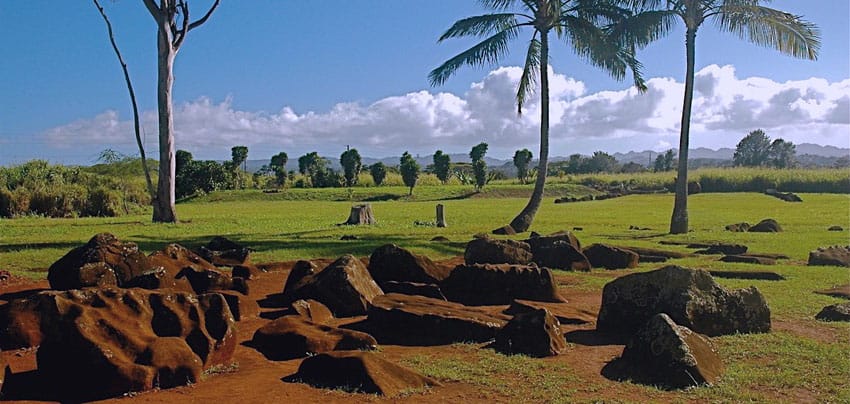 The Kūkaniloko Birthstones is one of the most sacred sites in Hawaiʻi. The five-acre site is the piko (center, naval cord) of Oʻahu where the highest-ranking aliʻi (royalty) were historically born. These stones and the surrounding areas were places of learning for kahuna (ex­perts), lua (martial arts), kilo (observations) and other cultural practices.
In 2012, OHA acquired the 511 acres surrounding Kūkaniloko to protect and preserve the site by providing a buffer against development and ensuring that future uses of the area are consistent with Hawaiian cultural values.
Check this website for updates on the planning process, including notices of the public meetings and other opportunities to provide input. Any input or questions can be submitted to wahiawalands@oha.org.
Conceptual Master Plan
Completed in 2018, OHA's Conceptual Master Plan (CMP) for its Wahiawā Lands identifies the following goals for the property:
Protect the Birthstones Site;
Explore appropriate agriculture;
Contribute to food security; and
Preserve open space and watershed lands.
OHA currently manages these lands and regularly engages and solicits input from The Hawaiian Civic Club of Wahiawā, the longtime stewards of the Kūkaniloko Birthstones site.
Executive Summary of the Conceptual Master Plan
Wahiawa Lands Report - PDF Format

Current Management and CMP Implementation Activities
Continued Community Engagement: OHA holds monthly meetings with Kūkaniloko Advisory Hui to guide CMP implementation.
Vegetation Continuum Development: OHA partners with UH researchers to inform the intentional re-vegetation of the 511 acres, assessing soil remediation and various vegetation typologies including native reforestation, agro-forestry and compatible agriculture.
Conceptual Design Development: OHA is working with designers and community to conceptualize spaces that facilitate re-vegetation and provide cultural educational opportunities towards further protection of Kūkaniloko (Water Storage and Distribution System, Community Space, Greenhouse/Nursery)
Vegetation Clearing and Maintenance: OHA contracts for invasive grass and tree removal to clear overgrowth and open access roads; nearly 80 acres cleared to date.
Security: OHA Legacy Land specialists work with community and security contractor to monitor and mitigate trespassing and vandalism.
Brief Summary of OHA's Wahiawā Lands
Location:

Ahupuaʻa of Kamananui
Moku of Waialua
Mokupuni of Oʻahu
Wahiawā, Oʻahu

Acquired: 2012
Size: 511 acres
Zoning: Agricultural, conservation easement
OHA Investment: $3 million, part of a larger $25-million purchase of 1,718 acres Galbraith Estate
Tenure and use: Owned fee simple
Acquisition Objectives:

To explore the development of compatible agricultural uses and other programmatic initiatives.
To contribute to Hawaiʻi's food self-sufficiency, preservation of open space and watershed lands and overall community planning goals for central Oʻahu
To protect Kūkaniloko by providing a buffer against future incompatible development in the area.

Features: Surrounding the Kūkaniloko Birthstones cultural and historical site
Access: The Kūkaniloko Birthstones site has been closed out of precaution due to Covid-19.  For additional information regarding access, contact Site Stewards, the Hawaiian Civic Club of Wahiawā (HCCW), at kukaniloko.org
Cultural and Historical Information: OHA Kūkaniloko Informational Sheet