Board of Trustees
OHA's Board of Trustees (BOT) is composed of nine trustees who are elected in public elections open to all State of Hawai'i voters. Four of the nine positions are designated as at-large seats representing the state as a whole, while the other five trustees represent each of the following districts: Hawai'i Island, Maui, Moloka'i and Lāna'i, O'ahu, and Kaua'i and Ni'ihau. Trustees are elected to four-year terms, and there is no limit on the number of terms a trustee may serve.
The Board of Trustees is responsible for setting OHA policy and managing the agency's trust. The Board meets regularly at the agency's headquarters in Honolulu, and at least once annually on each of the major islands.
Each of the trustees sits on the Board's two standing committees: Committee on Resource Management (RM) and the Committee on Beneficiary Advocacy and Empowerment (BAE).
The RM Committee recommends policies for the management of the agency's investment portfolio and other OHA fiscal and budgetary matters, in addition to policies relating to land use, native rights and natural and cultural resources.
The BAE Committee focuses on the agency's legislative and advocacy efforts, as well as OHA programs that address issues relating to health, human services, education, housing, land use, environment and natural resources.
The RM Committee and the BAE Committee convene regularly – both separately and jointly – and the committees' approved actions and recommendations are forwarded to the full Board for consideration and final approval.
Dan Ahuna
Kauaʻi & Niʻihau Trustee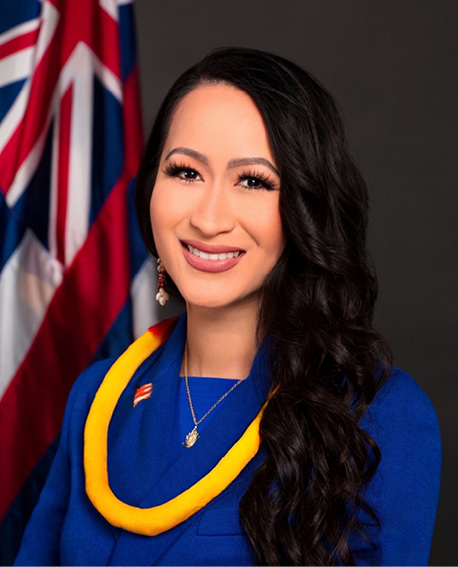 Kalei Akaka
Oʻahu Trustee
Keli'i Akina
At-Large Trustee
Luana Alapa
Molokaʻi & Lānaʻi Trustee
Brickwood Galuteria
At-Large Trustee
Carmen Hulu Lindsey
Chair
Maui Trustee
Keoni Souza
At-Large Trustee
Mililani Trask
Vice-Chair
Hawaiʻi Island Trustee
John D. Waiheʻe IV
At-Large Trustee